Share Your Fruit
Don't let fruit go to waste or become a nuisance! Share your extra fruit to make a difference for people in need in our community, and reduce food waste for the health of our environment and planet.
The San Francisco Bay Area is a place of abundance. Before Silicon Valley, the South Bay was known as the Valley of Heart's Delight and world famous for fruit, and today we have fruit trees with tens of millions of pounds of fruit growing year round in our suburban landscape. Most produce far more fruit than their owners can use themselves.
But while we have great abundance, there is also great need: more than 1 in 10 residents need assistance from local food banks.
Together, we can reduce hunger by sharing the fruit that's all around us. Learn how you can made a difference.
---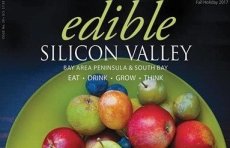 Enjoy your own fruit
---
Fruit Sharing DIY: Donate It Yourself
---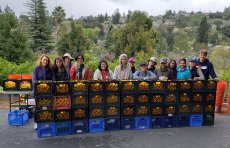 Volunteer Harvesting Assistance
We organize groups of 15 to 100 volunteers to harvest non-commercial historic and heritage orchards in 4 counties of the Bay Area, from San Mateo south to San Benito County. Private and public owners may complete the Home Sign Up form or Contact Us for more information.
Our Neighborhood Harvest project partners with neighborhood associations and local residents to organize fruit tree harvests of entire blocks and neighborhoods to provide healthy food from the "suburban orchards" that fill Silicon Valley, and to engage the community and volunteers in solving local hunger.
If you'd like to organize a harvest of your neighborhood, please Contact Us.