Ladder-less Fruit Harvesting Techniques
Posted: June 30, 2020
This is a lightly updated version of a PDF document that's helped many home tree owners learn easier ways to pick their fruit since first published in in 2004.
May home tree owners tell us the reason they can't harvest their fruit is because they don't have a ladder or don't want to get on a ladder.  The easiest and safest way to harvest a fruit tree is by hand, from the ground. What surprises many is that much of the fruit that is harvested by Village Harvest volunteers is not harvested using ladders.
Tools and Techniques
Here are some of our ladder-less fruit harvesting techniques that you can use at home. 
Hand Pruner / Clipper
Beyond a hand, a pair of garden pruners / clippers is the #1 tool for picking citrus. Tangerines, tangelos, and lemons often have tender skins that will tear if the fruit is pulled, and clipping off is usually best. Oranges and grapefruit will usually pull off easily and cleanly when ripe.
Telescoping Pole Fruit Picker
These fruit pickers come in many varieties.  There are the standard basket type pickers that come on wooden or fiberglass poles.  Fiberglass poles are lighter, don't splinter and can commonly be found extending to 12 feet.  With a 12 foot extension fruit picker, it's possible to harvest up to a 18' tall tree. 
Specialty Fruit Pickers
There are a number of specialty fruit pickers made for soft fruit or fruit with substantial stems that need to be clipped.  These are usually sold just with the heads and need to be attached to a wood or fiberglass pole.  Poles can be purchased separately but it's often more convenient to purchase an extension fruit picker and replace the head.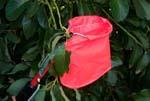 Extension Pruner
Sometimes, especially if the fruit tree branches are very brittle or willowy, it can be best to just clip the fruit.  The best pruners for the job will clip then hold the fruit so it doesn't fall to the ground.  Extension pruners can extend to as much as 20 feet.
Shake and Catch
"Shake and catch" is a method developed by Village Harvest volunteers that's especially good for plums.  You'll need a tarp or sheet, and a stick that can be a broom or a light garden tool, and preferably 3 to 4 people. It can be done "solo" although the results may not be as gentle if fruit drops onto the ground.
Gather 3-4 friends and family around the tree. 
Stretch a tarp or old sheet under the tree making sure that it doesn't touch the ground.
Gently shake the branch above the tarp.
Catch the fruit into the sheet or tarp; usually only the riper plums (or other fruit) will fall, without being bruised or damaged.
When the tarp is full or heavy enough, grab the corners to gather the plums together, then scoop the plums into boxes and carry them away.
Note that if the fruit hasn't been thinned, you will get a variety of ripeness that falls. The unripe fruit would be falling anyway due to having too much competition for space on the branch. Do this several times during the season and you'll have harvested nearly all the fruit. 
A great variation on this that we've seen some homeowners drape a net under the tree.  As the wind shakes the fruit down, it catches in the net.  Daily, gather the fruit for breakfast. 
"Shake and catch" can also be used for softer, more fragile stone fruit like apricots, peaches, or nectarines if you're planning on using the fruit immediately for jam. Those fruits will probably be damaged from the fall but sometimes it's the only way to get high fruit off a tree. It also catches them in a tarp for less mess in your yard.
This method can be used for apples but you should consider a hard hat.
Build your own Tree Shaker, designed by Village Harvest volunteers to mimic the tree shakers that were used before mechanical shakers were developed. 
Pruning
Probably your best defense against a ladder.  And your only technique for cherries, apricots, figs, and kumquats that need to be harvested by hand. 
Keep trees to 15' tall, remove crossing and dead branches to make access to fruit easy on yourself.  Citrus trees have high yields and are easy to harvest when pruned as bushes.  Deciduous fruit trees can be pruned to have low canopies or to branch downward in a willow-like fashion.  Additionally, there are special pruning/planting techniques that are designed for easy harvest.  Consult a good garden book for espalier or cordon techniques. 
Ladder-less Fruit Harvesting Technique Suitability Guide
X - Common method
S - Sometimes used
| | | | | | |
| --- | --- | --- | --- | --- | --- |
| Fruit Type | Hand Clipper | Pole Picker | Specialty Picker | Shake & Catch | Extension Pruner |
| Apple |   | X |   | S |   |
| Apricot |   |   | X |   |   |
| Avocado | X | X | X |   |   |
| Cherry |   |   |   |   |   |
| Fig |   |   |   |   |   |
| Grapefruit | X | X |   |   |   |
| Lemon | X | X |   |   |   |
| Loquat |   |   |   |   |   |
| Orange | X | X |   |   |   |
| Peach/Nectarine |   |   | X |   |   |
| Persimmon | X | X |   |   |   |
| Plum |   | S | X | X |   |
| Pomegranate | X |   |   |   | X |
| Quince |   | X |   |   | X |
| Tangerine | X | S |   |   |   |