2014 Announcement - Community Harvest of Davis
In 5 years the Davis team of Village Harvest picked and donated over 170,000 lbs of fruit to feed people in need.

Because of this success, in November 2014 the Davis volunteer team became a separate nonprofit organization with a new name, Community Harvest of Davis, but with the same volunteers and the same fruit recipients including the Davis STEAC Food Closet (Short Term Emergency Aid Committee), local churches, and the Food Bank of Yolo County.

Here is the new contact information and website; if you are in the Davis area, please continue to offer your extra fruit and to volunteer:
Community Harvest of Davis
www.harvestdavis.org
info@harvestdavis.org
(530) 759-9792
---
2014 Harvest to Date
17,579 lbs.
2013 Harvest Total
29,306 lbs.
Welcome to the web home of the Davis team of Village Harvest. Below is a calendar showing upcoming harvests and other events for our Davis-area team.  Focusing on harvesting residential fruit trees, we distribute the home owner's excess fruit to family service agencies throughout Yolo County.
Davis contact person: Joe Schwartz (joe.schwartz@villageharvest.org)
Got Fruit?   If you have fruit trees and wish to donate fruit, Village Harvest would like to help.
Contact us for suggestions on where & how to donate fruit.

If you need help harvesting your trees, fill out our Home Sign Up Form. We will contact you when scheduling a harvest in your neighborhood.
As the home owner, you keep as much fruit as you would like.
Donations are tax deductible as permitted by law.
Currently, we harvest in the Davis area (plus a few very large crops elsewhere), and do not harvest figs or walnuts.
Want to volunteer?  Register here!  Davis team volunteers come in all ages and sizes - there is work for everyone - up in the trees, on the ground and for clerical or outreach assistance.
Harvests are typically held twice each week during peak seasons.
Once registered, you will receive an email prior to each harvest. Simply RSVP to those you would like to attend and join the fun!
We are currently in great need of volunteers with vehicles able to transport several hundred pounds of fruit (in crates/boxes) and/or equipment.  We also welcome volunteers on bikes.
For more information, see our Volunteer FAQs.
News and Notes (as of 2012)
In addition to the tree fruit harvest totals listed above we have donated 5,952 lbs of melons and vegetables in 2011.
We were featured on the front page of the Davis Enterprise on May 5, 2011! (PDF archived on the Village Harvest site with permission of the publisher, (c) Davis Enterprise 2011.)
Village Harvesters Greg Gibbs and Jagroop Guraya were interviewed on Davis radio KDVS's program "Local Dirt" on May 2, 2011.
February 2011 was our most productive month ever, with a harvest total of 8,198 pounds!  This includes our largest single-day harvest to date: 3,423 pounds of tangelos from 100 trees in Winters.  Check out our photos below.
We mourn the loss of Dietz Bauer, passionate volunteer and friend to 

Village

 Harvest.
Event Calendar   
For November 2014 and beyond please contact Community Harvest of Davis.
Davis Photo Gallery
Wendy Silk and other volunteers at a December 2011 persimmon harvest: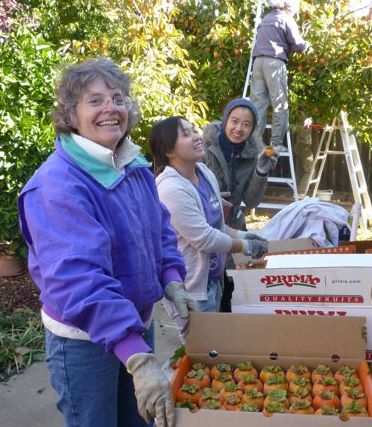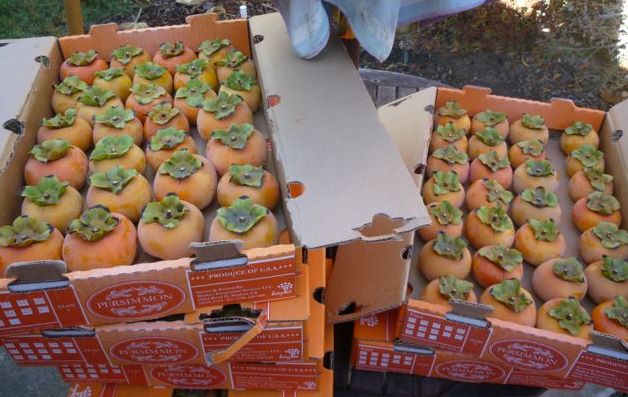 Volunteers of many ages at a May 2011 grapefruit harvest: