Record Year! 2022 Giant Orange Orchard Harvests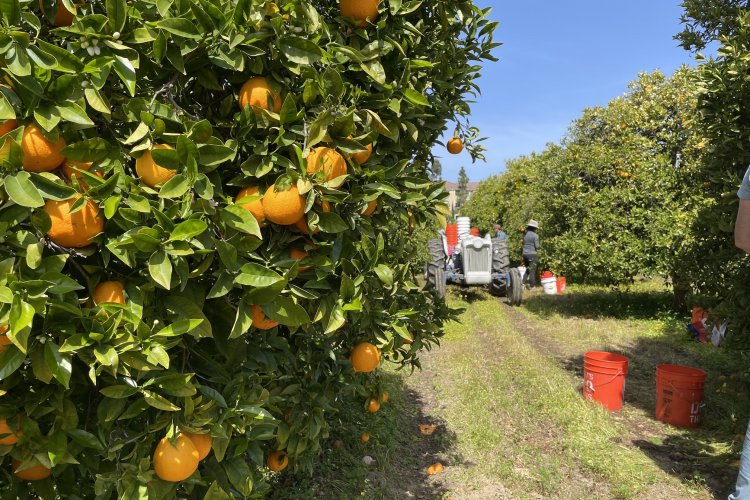 Posted: May 24, 2022
The largest series of events in Village Harvest's 21 year history wrapped up at sunset on Thursday May 19. Over fifteen harvests 430 volunteers picked an astonishing 170,958 pounds of navel oranges for Second Harvest of Silicon Valley, enough to benefit 75,000 or more people in the community. This huge amount was almost twice the amount we picked last year.
The "Giant Orange Orchard" is a navel orange orchard in North San Jose filled with 1,500 trees, a 14 acre island of the Valley's agricultural past surrounded by the tech companies and apartments of modern Silicon Valley. It is the last large orchard remaining from the "Valley of Heart's Delight" when our area was the biggest fruit producing region in the world. The farm family has owned the land for 105 years, and fruit from the orchard was harvested and sold commercially through 2017. The family first found Village Harvest in 2018 and liked sharing their fruit with the community so much that they donated their entire crop again in 2022 to help others.
This year we originally planned to have 5 weekend harvests with 40 volunteers and 5 smaller Thursday evening "sunset harvests" to pick higher fruit left after the large weekend harvests picked fruit that could be reached from the ground. And we thought we'd wrap up in mid April. Ha! There was more fruit on the trees this year, and ultimately we added more harvests and extended the schedule a full month to take full advantage of nature's abundance. We also had to cancel and reschedule 3 harvests because of rains that came late this year.
Doing 15 large group harvests and picking over 170,000 pounds is a production, not an event. We're grateful for the dedication, good spirits, and hard work of nearly 500 people who made this accomplishment possible:
The farm family, with 3rd generation owner Bob continuing to support the harvests, donating the fruit, and driving tractors; long-time farm staff member José driving tractors; 4th generation family members Andrew and Amanda for driving tractors and personally carrying thousands of pounds of oranges from buckets into bins; and the playful encouragement of Andrew and Amanda's young children, the 5th generation, who kept us entertained.
25 of Village Harvest's volunteer leaders who stepped up to sustain many weeks of extended effort. And special kudos to leader Jim Murray who volunteered in 12 of the 15 harvests.
The planning, organizing, and improvisation of Village Harvest staff members Susan, Tracy, and Craig
Our partners at Second Harvest of Silicon Valley, especially senior coordinator of food resources Judy Bateh, for orchestrating the logistics of truck deliveries and pickups. And the countless Second Harvest and food agency staff and volunteers who distributed the oranges to many tens of thousands of people in our area who need healthy food.
And most importantly:
430 harvesting volunteers, who brought their community spirit, family, and friends and gained new experiences of what a real farm can be like.
THANKS and gratitude to all.
---
Here are a few photos from this season, and check out an earlier article with more photos.