November 2020 Update for Tree Owners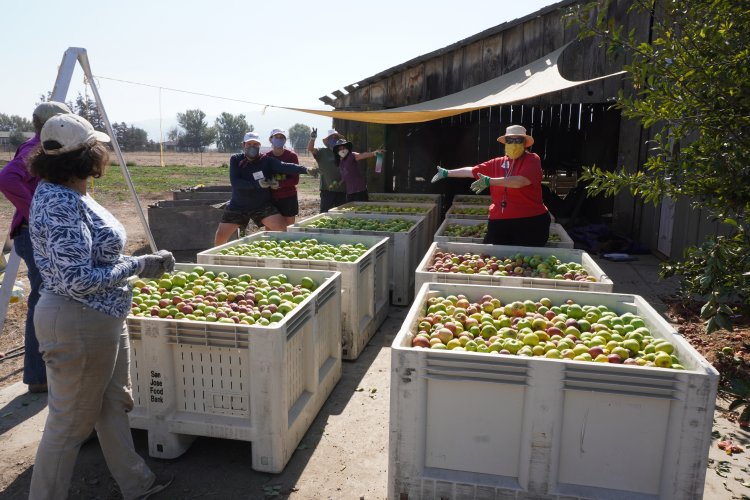 Posted: November 17, 2020
Many tree owners have been asking whether Village Harvest is still operating in the coronavirus (COVID 19) pandemic. Yes! But like everyone we've had to adapt for the times, especially with changes in our home harvesting.
This note was sent to tree owners with an email address on file on November 17 and added to the website so that others have our latest status.
For volunteer and community safety, we're primarily harvesting the heritage orchards remaining in our area from our agricultural past. These orchard have enough open space to provide safe "social distance" for volunteers, but even then we've reduced the number of volunteers per event.
 
In spite of pandemic slowdowns, with generous tree owners and a thousand enthusastic volunteers Village Harvest has been able to harvest or donate about the same amount of healthy fruit for people in need as last year, with 108,000 pounds of fruit picked by volunteers so far and an additional 100,000 pounds donated in collaboration with a very generous grower. Big numbers, but what they mean is more than 50,000 people have benefited from what we do together.
Unfortunately home harvesting is very constrained. In the tighter space of home yards we must reduce most harvests to only 4 volunteers to maintain safe distances, and many local food agencies have reduced what they can receive or are unable to receive any fruit at all. This fall we're only able to assist about 20% of the number of homes as last year.
One San Jose team has resumed weekly harvests, but we are harvesting only 1 or 2 homes a week to avoid overloading food agencies with more fruit than they can handle.
Our Mountain View and Los Altos home harvests are happening occasionally, but for 1 or 2 homes at a time.
Sunnyvale, Santa Clara, and Cupertino home harvests are paused because of pandemic-driven changes at our Sunnyvale food agency partner. Palo Alto harvests will resume monthly in citrus season.
Even though our volunteers can't pick many homes, please don't let all your fruit go to waste! There is even more need for food in our community, and sharing the fruit is good for your tree and your yard. And you'll feel good helping others, too.
We encourage tree owners to pick and donate whatever amount they can to one of the food agencies that continues to receive fruit. For tips and locations, visit the FruitSharing DIY and Community Fruit Drop Off Locations pages on our website, and please feel free to Contact Us for suggestions.
Looking to the future, keeping each other safe will affect our home harvests for perhaps another year. You may still make Harvest Assistance Requests through our website, and our volunteers will still assist as many tree owners as possible, especially seniors or others who are physically unable to pick their own fruit.
We are grateful for everyone in the extended Village Harvest community. Thank you for your understanding and support, and best wishes and health for Thanksgiving and beyond.
Craig Diserens
Executive Director